Search Engine Optimization
(SEO)
Search Engine Optimization is a set of actions related to the adaptation of the website to the algorithms of search engines to ensure compliance with users' requests and attract potential customers to the site. SEO dramatically increases its visibility when searching for the needed topic.
We suggest that you familiarize yourself with the topic in a little more detail before ordering the promotion of a site on the Internet.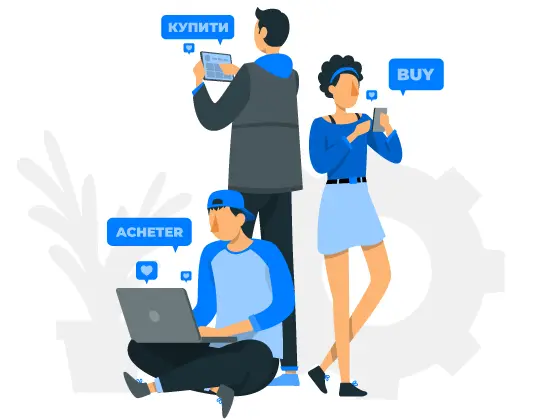 You can order SEO optimization services and website promotion on search engines with optimal prices and with expert comprehensive approach and clear terms of cooperation. During individual consultation we will prepare an optimal solution for your project! Get visible results on the 4th month of search website promotion on Google.
To order website promotion on the Internet, just call our manager or fill out the feedback form.
Why do you need to
optimize your site
SEO meaning is to make sure that search engines show it for the largest number of keywords and display it at the top of search results. To do this, the specialist conducts a SEO audit, identifies problem areas (for example, duplicate or missing meta tags, duplicate texts or pages, low loading speed, bad links) and draws up a technical assignment to eliminate them. In addition, competitors' analysis in the niche is performed as well to identify their strengths and weaknesses. It should be noted that search engine optimization is a mandatory component of such service as a comprehensive website promotion.
What does SEO for websites service include
Internal optimization
Comprehensive website analysis, semantic core сompilation, site structure development, technical SEO optimization and solving technical problems, removal of search engine sanctions if there are such, creating Internet promotion strategy according to the business niche and search engine requests.
You can order individual consultation with our SEO specialist to learn more about this .
Вы можете заказать индивидуальную консультацию у нашего специалиста по SEO, чтобы узнать об этом больше.
Our services: Semantic core сompilation Site structure development
External optimization
Competitors' analysis and defining of resource competitiveness, increasing the website external link weight, audit of current link weight, distribution of link weight between pages, creation of strategy for placing links to external resources, selection of thematic and quality donors, content publication with links to promoted website. We use only safe methods for external optimization: outreach, link building, crowd marketing, placing links on social networks.
Our services: Link building Crowd marketing
Content optimization
Increasing uniqueness, readability and relevance of texts, images and videos, visual text formatting, creating and placing meta tags. Creating quality and useful for target audience content.
You can order a consultation from our specialist to learn more about it.
Our services: Copywriting LSI copywriting
How to order SEO website promotion
Leave request on the website or just call our manager to order Internet promotion service or individual SEO solutions from expert during which we will prepare for you the best solution and discuss terms of cooperation.
Why should you choose SEO website promotion
from Lanet CLICK
We use 100% «white» methods which provide good visibility for a long period without a risk of being sanctioned.
A team of profile experts works on each project: SEO specialist, copywriter, linkbuilder, project manager. Work effectiveness is analyzed and according to analysis results the promotional strategy can be corrected. We regularly provide reports about done work that's why you will always know about the effectiveness of our service and website promotion.
If you do not have specialists who can implement technical recommendations in the staff, we can involve additional specialists — designers, usability specialists, analytics. We have all the necessary capacities to provide a comprehensive Internet promotion service.
We use reliable fully functional SEO instruments during our work: Serpstat, Ahrefs, Search Console, Screaming Frog, Key Collector, Seranking, Majestic.
To learn more about the advantages of Lanet СLICK and features of the promotion of sites on the Internet, you should order an individual consultation!
---
Involved organic traffic per month
---
Search queries that ranked in the top 10 of Google
---
Business niches in which we have experience
---
Sites we helped to successfully move
---
Sites that were removed from search filters
SEO website promotion on different CMS
Thanks to experience in different business niches and different website types (corporate, online stores, business card website etc), we undertake website promotion in search engines on different topics and on different CMS:
SEO for Horoshop
SEO for Wix
SEO for Bitrix
Ordering the site promotion service on these platforms is necessary if you want to use their possibilities to the maximum .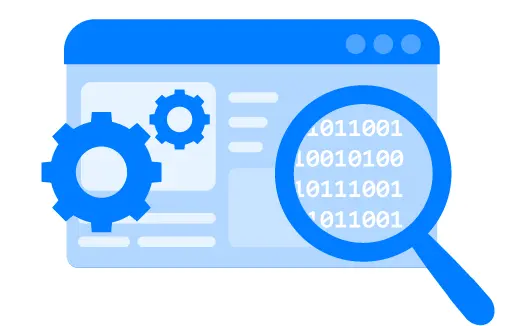 Stages of works on SEO optimization
SEO for companies or online stores has its special features. But whether it is one type or another, there are some common stages of optimization which include:
Site audit, finding technical errors and drawing up technical assignment for their correction, specifically:
- analysis of internal and external optimization;
- website loading speed for mobile devices;
- optimization for a mobile device;
- optimization of meta tags;
- analysis of link weight of the website;
- planning further work on SEO promotion.

Connection of analytics systems: Google Analytics & Google Search Console.
Web analytics systems allow you to track the behavior of site visitors, the most interesting pages for them, and analyze the effectiveness of marketing channels. All of this will ultimately help to convert traffic.
Preparing for on-page SEO:
- analysis of the website structure, adding new filters;
- creating new pages that can bring traffic;
- collection of semantics and keyword research;
- setting up correct interlinking;
- increasing the relevance of website pages.

SEO website promotion prices
Prices for SEO website promotion in Ukraine depends on various factors. The cost of SEO optimization is influenced by the competition in the niche, the number of pages on the website, the qualifications of the specialist and the types of link promotion.
The price of SEO promotion also depends on such factors:
website type and number of pages;
promotional region;
level of competitiveness in the niche;
amount of semantic core;
history of website promotion;
technical condition of the website.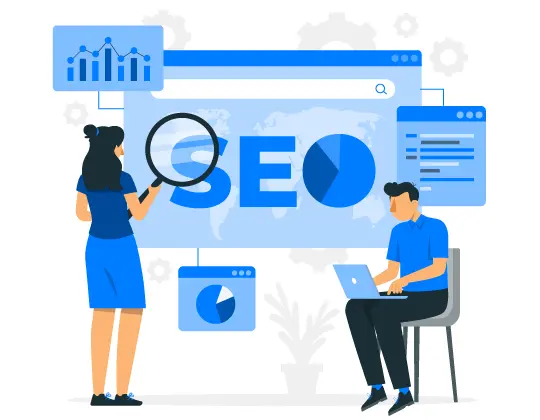 Our SEO company knows how to promote websites in such niches: online stores, developers, B2B companies, manufacturers, distributors, medical sphere, food establishments, IT companies, financial companies, logistic companies, Internet providers, agribusiness.
The detailed process of website promotion
Website promotion is a set of actions aimed at increasing the visibility of a resource in search engines and getting it to the top of search results, which allows for attracting targeted traffic and increasing conversion rates. The promotion process consists of several stages, which we will discuss in detail below.
1. Niche and competitor analysis, development of promotion strategy
A preliminary analysis of the situation is required to develop an effective website promotion strategy. We comprehensively analyze the business niche and key competitors, as well as the state of the website, its strengths and weaknesses.
Three essential components of comprehensive analysis:
- Market analysis in the industry. We determine your target audience, its pain points and goals, how to work with them, and what marketing strategies should be used for this audience. Without this analysis, it is difficult to predict the results of SEO promotion, especially in niches with high competition.
- Keyword analysis. We analyze the list of keywords and phrases for which your website is currently promoted, remove remaining irrelevant queries, and structure them.
- Competitor analysis in the niche. We pay special attention to the websites in the top 10 of the search results — we study their strategy and the tools they use to determine the most effective ways to promote the website in search engines and avoid their mistakes.
At this stage of website promotion, we compare different strategies, and the work of different channels and tools, and based on the data obtained after comprehensive analysis, we develop an individual promotion strategy for your website, taking into account the specifics of the target audience and the unique features of the project.
2. Collection of semantic core and clustering of key queries
At this stage, we select keywords and phrases that characterize the website, products, or services, and will be used for the SEO of the resource. The effectiveness of website optimization depends on the correct selection of keywords and their precise placement on the pages.
- Determine the keywords that cover the entire search demand in the website's topic and its main competitors;
- Collect queries that contain these words and synonyms, taking into account commercial and informational queries;
- Check the competitiveness of the collected queries.
After collecting the semantics, we conduct clustering of key phrases to group (cluster) queries with the same intent and check if they can be placed on the same page.
3. Internal website audit, technical optimization
Slow page loading, internal errors, and lack of responsiveness can negatively impact the SEO performance of a site, therefore it is necessary to conduct a site audit and fix existing technical errors.
As part of the technical audit, we analyze the entire internal part of the site, checking everything:
- Correctness of meta tags;
- Content structure;
- Internal links structure and its correctness;
- Microdata markup settings;
- Breadcrumb settings;
- Presence of hidden text;
- Language version settings;
- Navigation convenience;
- Sitemap and robots.txt file settings;
- Indexing;
- 301 redirects;
- Listings and pagination;
- Presence of HTML errors;
- Presence of duplicate pages.
We fix the found errors, remove duplicate pages, delete or replace broken links with updated ones, set up redirects and everything necessary for more effective promotion.
Sometimes the audit reveals that the site is under search engine sanctions. Usually, this is not a verdict, and the site can be lifted from sanctions. This must be done, otherwise, all efforts towards SEO promotion of the website will be in vain.
4. Content optimization

Texts with keywords that Google uses to find and display search results are at the core of SEO website promotion. Effective website promotion is impossible without high-quality, optimized content.

To create such content, we develop a content plan and create a list of technical assignments for writing texts based on a well-researched semantic core. The technical assignment includes all the necessary SEO and LSI parameters that the texts should meet, such as keywords, their density, text readability, and more.

Ready texts are optimized according to the requirements of search engines:
- Meta tags are filled in.
- Headings H1-H6 are written.
- Images are optimized and made unique.
- Internal linking is implemented.
5. External optimization, link building
The presence of numerous links from other resources is an indicator for search engines to trust your website. Thanks to external links, SEO website promotion can be done faster and more effectively. However, it is important to pay attention not only to the number of links but to their quality too, as links from suspicious websites can harm your reputation. Therefore, authoritative websites with a high trust rating should be selected for placing articles with links to your resource.
During the stage of external placement, our task is to make sure that people talk about you on the Internet. We track the number of mentions, adjust the tone of speech, and remove links that can harm the reputation of the website.
6. Conversion optimization and increasing sales
The goal of most websites is to sell products and services. Whether this goal is achieved depends on the convenience and clarity of the website, as every action of website visitors affects ranking factors and therefore, brand visibility and website sales. At this stage, we strive to maximize the ROI (Return on Investment) while staying within the approved budget.
Conversion optimization works may include:
- Analysis of Google statistics;
- Creation of scroll and click maps;
- Users' recordings analysis;
- Improving the snippet for a more attractive display of the website in search results and, as a result, increasing the click-through rate;
- Reducing bounce rate of pages which visitors quickly leave;
- Behavioral metrics adjustment through quality improvement page content;
- Refining and changing the site structure, considering UX/UI design requirements;
- Site display testing;
- Conducting A/B tests.
All these measures will help prevent situations where a user intended to make a purchase but for some reason was unable to or changed his mind and abandoned the website. To ensure an easy purchase path for users, it is worthwhile to invest in website promotion.
7. Analysis of results, reporting, and further optimization
Successful website promotion on an ongoing basis is only possible through regular analysis of results and timely adjustments to the strategy when needed.Google frequently updates its ranking algorithms as well, and these changes need to be taken into account when forming the website's SEO strategy.
Almost all SEO results can be measured, so we provide detailed reports for our clients and always have data for timely strategy adjustments to achieve maximum promotional effect within the defined budget.
We offer transparent website promotion services. In our reports, we provide detailed descriptions of the conducted work and showcase the results of our actions in numbers, so that you can assess the effectiveness of SEO for your website and plan your budget better. Contact us to inquire about the cost of website promotion.
If you want to order website promotion on search engines, leave request for consultation
Tell us, what goal do you want to achieve during the promotional process, and we will provide website analysis, prepare a working plan and calculate the necessary budget.