Promotion on Instagram
How to promote your brand on social networks to a wide audience? How to reach people of all ages and financial statuses? Of course, order a comprehensive promotion of your brand on Instagram!
And now a few numbers: 1 billion people use Instagram every month, and more than 500 million users watch Instagram Stories every day. Impressive, isn't it? Maintaining a business account on Instagram will allow your business to increase visibility and increase the number of orders and subscribers (potential customers). The Instagram audience is as diverse and active as possible, and you can single out the target audience and its core for any business.
Who needs Instagram promotion?
Promotion on Instagram is relevant for almost any business: construction companies, doctors, online services, Internet providers, building materials manufacturers, etc. The extensive functionality of the advertising cabinet and various content formats will allow you to show your product in the best light. And in the hands of SMM specialists, maintaining an Instagram page will bring results almost immediately: from increasing the number of subscribers to increasing the target involved in the direct.
In addition to promoting the brand's Instagram page, Lanet CLICK's SMM specialists also promote personal Instagram profiles. If you want to become an opinion leader and earn money on your Instagram account, we will be happy to help you! Personal profile promotion is suitable for beauty bloggers, coaches, cosmetologists, lifestyle bloggers, and professionals in other fields. By the way, promotion on Instagram is perfect for brands and services with a young (16-35 years old) target audience. These users are the most active and often interact with all types of content, love experimental and creative publications, contests, and discounts.
What results will you get from promoting Instagram?
By ordering an Instagram account promotion from Lanet CLICK, you will get the following results:

Your profile coverage will increase, which means that more potential customers will learn about your product/service.

The number of targeted inquiries and sales will increase. In addition to filling out your profile, we'll run ads on your target audience.

Involvement in posts and, accordingly, goods will increase. We will do everything possible to heat the audience's interest in your profile – to promote your account with native and direct advertising. For example, through contests, gives, boosting certain publications, advertising from bloggers, barter with bloggers, etc.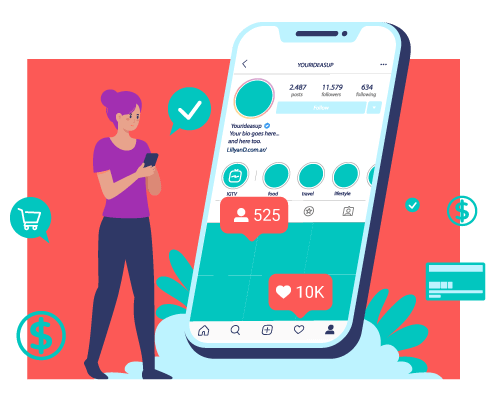 How much does it cost to promote Instagram?
The cost of Instagram promotion from Lanet CLICK is individual for each business. The cost of promotion on Instagram depends on several factors, such as: the frequency of posting, activity window in Direct (the time when our managers will respond to messages from your customers), the number of Stories and advertising campaigns, etc. We will never try to sell you the most expensive advertising package. We will help you choose the best promotion method for your page. Let it be even two posts a week, but if they bring results, everyone wins!
The price of Instagram promotion will not be sky-high, and the quality of work performed will more than recoup all costs. We are sure that the price will not seem high to you compared to getting maximum sales and, based on this, profit.
How to order a promotion on Instagram from the digital agency Lanet CLICK
It is easy to order an Instagram promotion from us: call us at the phone number listed in the Contacts menu item, write in the chat or order a callback.
You can order our services during non-working hours — leave a request, and we will call you!
Frequently Asked Questions:
What does the Instagram promotion service include?
design a page on Instagram (creating a logo, description, filling out contacts, individual Stories, transferring to a business account);
creation of a strategy for promotion on Instagram: coordination of goals, development of a launching strategy for native, direct, and targeted advertising on Instagram;;
maintaining an Instagram page: writing a content plan for the month/two weeks/week, writing posts, creating graphics and approval with the client, posting.
What do you get from promotions on Instagram?
increasing your brand awareness, the number of applications, subscribers, viewers, and fans;
increasing site traffic, offline stores; direct and delegated sales of the product/service;
increasing the engagement of your target audience with your posts and products.
Why choose us?
We practice an individual and flexible approach with each client. We will listen carefully to all your wishes and suggestions, give advice and tips, but we will never insist only on our own. The main thing is to provide a quality result of work, whether it is the promotion of a residential complex on social networks or the account of a local Internet operator on Instagram.
Among our main advantages and principles of work are:
only high-quality and unique content;
we study best practices and implement successful cases;
maximum immersion in the project;
our team includes certified specialists;
we monitor the project every day and every hour;
the individual strategy for each project;
we always give the desired and expected result.
Turnkey Instagram account promotion from Lanet CLICK
It is a great choice to achieve the fastest results. Comprehensive services are the key to success in any business, especially on social networks. Every detail is important for promotion. Our specialists will develop a set of advertising and content strategies for you, which will give the fastest, longest, and highest quality result. We approach every project with all our hearts and are 100% committed! Want to know what we are capable of? Order a content strategy or audit of your account, and we will be happy to help you!
FAQ
1.
What business should be promoted on Instagram?
Instagram is an effective platform for promoting almost any type of business. Advertising on Instagram is most suitable for offers of various physical goods (clothing, shoes and accessories, jewelry and cosmetics, goods for children and sports goods, appliances and electrical goods, food products, etc.), promotion of services of private masters (stylists and make-up artists, cosmetologists and doctors, trainers and nutrition specialists, photographers, etc.), and promotion of companies (beauty salons, cafes, fitness clubs, various shops, etc.).
2.
How to start promoting on Instagram?
Promotion on Instagram is a complex process consisting of certain stages. First, it is necessary to register a commercial page in the social network and properly design it. In addition, you need to define the goals and tasks of promotion, mark the desired results, draw up a portrait of the target audience, analyze the market and competitors, and think about your positioning. If necessary, the marketing strategy can also include other promotion methods such as targeted advertising, promotion on Facebook, and others. For this, you need to contact a specialist who will develop an individual promotion plan based on the specifics of the business and your requirements.
3.
What is the cost of promotion on Instagram?
The cost of promotion on Instagram is not fixed. It is formed individually for each project, considering several certain factors. In particular, they include the frequency of publications, the time it takes for our managers to respond to users in Direct, the number of published stories and advertising campaigns, and other important points. To determine the approximate budget required for promotion on the social network, you can leave a request on the website for consultation and feedback from a specialist of our agency.