This year, Google announced upcoming changes to the Google Partners program. What kind of program is it, what are the advantages of being its partner and what changes are we talking about — read on.
Google Partners: what is it
Google Partners is a Google program used by advertising agencies and Internet marketing professionals. Thanks to Google Partners, they can manage profiles in Google Adwords on behalf of other businesses. Yes, as a part of the Google Partners program, it provides agencies with the tools and support they need to succeed in doing business. In Google Partners there is also an opportunity to study for free, receive certification (Google Partners certification) and be rewarded for achievements. Yes, those who register and are granted the status of Partner (Google Partner) and Premier Partner (Google Premier Partner) can receive a special badge. It is an image that can be placed on the company's website and POS materials. It shows that your agency has Google Ads specialists. Having a badge will raise the company's level in a competitive environment.
Another special benefit of being a Google Ads Premier Partner is the opportunity to receive Premier Partner rewards and executive events.
Google Partners was born eight years ago — in 2013. Since then, tens of thousands of companies from more than 60 countries have joined the program. Google Partners is available in more than 40 languages ​​for the convenience of its users. Ukrainian is available too.
Google Partners 2021 program
In early 2021, Google announced that it would make changes to the structure of the Google Partners program. Google Partners' updates will be fully implemented from February 2022, but some changes have already been applied since June of this year. It is about the design of the Google Partners certification page, refusal from the company's specialization, and lack of information about the old program (until recently there were materials about both the old and new programs, but after the update, information about the old one was removed).
The criteria for becoming a certified Google Adwords Partner and receiving the Google Adwords Partner badge are changing as well.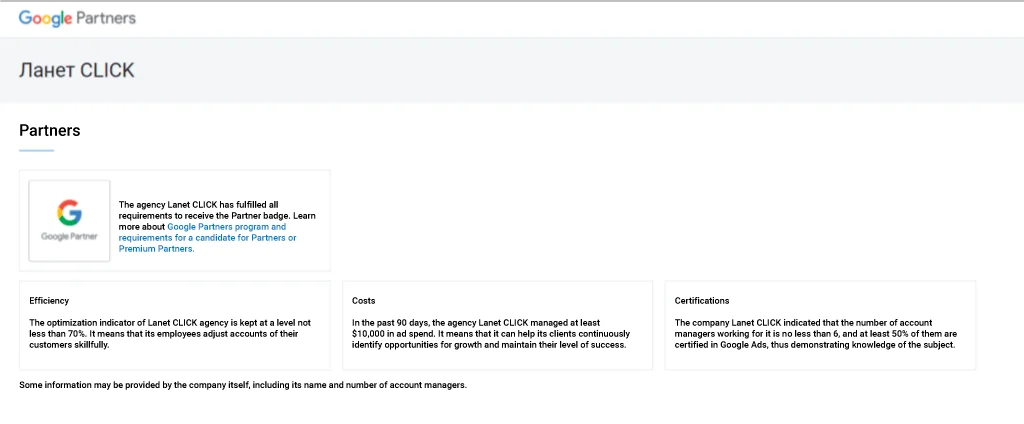 New criteria for receiving a Partner badge
New requirements can be divided into three categories:
Efficiency
Companies interested in becoming Google Partners must have the necessary experience to skillfully set up their customers' Google Ads campaigns. Yes, this experience is measured in the optimization indicator, which should be at least 70%.
Costs
Google's guidelines state that spending on a Google Ads profile for advertising campaigns should be at least $10,000. It applies to all managed accounts together for a specific period of 90 days.
Certification
At least half of the strategic planning specialists from a company participating in the Google Partners program are required to obtain certification and become Google Adwords Certified Partners. A company that wants to achieve Google Certified Partner status must have at least one certificate for each product on which money is spent on advertising (for example, search engine, video ads, in-app ads, and product ads).
However, for existing Google partners who meet the above-mentioned requirements, a new badge became available this summer. And Google encourages all partners who meet the new conditions to receive the badge and update its identity on their websites.
Launching a new icon
Not only the criteria for obtaining a badge are new, but its appearance is too.
The new icon can be used in two formats:
Online resources (as a piece of HTML code).
Printed marketing materials.
If the company already participates in Google Partners but does not meet the new criteria, then it will be able to use the badge until the start of the updated version of the program, i.e., until the beginning of 2022.
Updated and convenient interface
In addition, the interface of the Google Partners page has become simpler and more concise. Instead of several positions, there are now only three (efficiency, costs and certification) and a description below of the company's compliance with the criteria.
How to become Google Premier Partner in 2022
Current holders of the Google Ads Premier Partner badge will retain their status until February next year. However, only three percent of the most successful companies from each country will be able to become Premier Partners. These companies will be determined based on the following indicators:
total advertising expenses in managed accounts for the year;
customer development;
retention of customers;
products' diversification.
Premier partners will be selected annually. However, as Google notes, it will not be in all countries.