Content plan: why is it needed and whether it is possible to do without it, we tell about everything in turn.
What is a content plan
A content plan is a pre-formed schedule for publishing content on social networks. Many people will think: «Why should I create a content plan? I have enough imagination to generate content on the go!»
Everything is simple: it's not about fantasy but about systematic. A pre-created content plan with the format, topic, date, and time of posting will save you from unpleasant situations when there is no inspiration, but the post needs to be published today. In addition, this structured approach will help you remember the important dates on which you should congratulate your readers. This planning will allow you to publish the necessary information in doses rather than hastily make a post about the seasonal promotion on a penultimate day.
Of course, it's great to work on the call of inspiration. But you need to have a schedule of posts so that readers of your page do not suffer from overload during your creative boom. Or that they do not wait for weeks for a new post from you during the period when the muse has temporarily left you.
You especially need a content plan if you have been running social media pages for a long time. In this case, it becomes difficult to remember all previously published topics. And considering the possibility that from time to time, someone has to replace a specialist who maintains pages on Facebook and Instagram, the conclusion is obvious: a content plan is necessary.
Usually, experts make a content plan for the month. We recommend you check its relevance every week and make situational corrections if necessary. After all, one of the most important rules of effective posts is their relevance.
Before creating a content plan, you should determine the main goals of the page. It may be:
sales increase;
increase brand awareness;
building loyalty and engaging the audience.
After defining the goals, you can proceed to the creation of a content plan. You can do this in any way convenient for you: create a file in Google Calendar, Google Spreadsheets, or Google Excel. In fact, the method of design does not matter, the main thing is to determine for yourself and the team the most convenient option.
Content for its purpose can be of the following types: 
Advertising (commercial).
Entertaining.
Informational.
It is necessary to alternate these types of content in the feed. Do not abuse advertising publications because too intrusive advertising of services annoys the user. Then you have to determine the frequency and timing of placement. To do this correctly, consider all the features of your target audience. Answer the question: who is your client? Are they men or women, businessmen, students, or homemakers?
The number of posts per week depends on the specifics of your project: if it is a news portal, you can afford a few posts a day. In the case of a B&B project, 2-3 posts a week will be the best option for an audience that values its time.
However, regardless of the specifics of the page you want to promote, the content plan is a must for everyone: for a personal blog, training center, realtor, flower shop, clothing store, café, or hotel, and even for a sugaring or nail master. As you can see, the specifics of your page may be different. However, everyone needs a content plan to achieve results in the promotion.
How to make a content plan for Instagram
Although Facebook bought the rights to Instagram, and the same company manages these two social platforms, approaches to promoting pages are radically different. Accordingly, the content plans for these two networks also have their features.
How to make a content plan for this social network? Keep in mind that Instagram is primarily a visual social network. People here watch more than they read, so it is necessary to post more content that attracts the user. That's why before planning content plan topics, you need to determine if you can choose a quality visual for them. In addition, Instagram has two additional features: stories and IGTV. Be sure to use them and consider their capabilities.
Let's start creating a content plan for the Instagram page by identifying the possible post formats. On Instagram, it can be:
posts with photos;
video publications (up to 60 seconds in the page feed, up to 10 minutes in IGTV);
carousel format (several photos in one publication or even photo + video);
stories.
Alternate all possible options, and analyze your experience to determine the most effective formats for your page.
Let's talk about stories separately. To effectively promote the page, you should use this feature. It is your business card, which should always be available to the user. In addition, such stories on the pages demonstrate good audience coverage. Unlike posts, stories are not ranked according to users' interests but are displayed automatically one by one until the user decides to leave this section.
How to make a content plan for Facebook
Facebook audiences like storytelling and entertainment content more. Facebook readers prefer short videos up to 3-5 minutes long. Of course, it is not necessary to fill the page only with videos. After all, it is not always convenient for readers to watch video content, and the page feed should be balanced.
If you do not want to turn the creation of a monthly content plan into torture, immediately think about the rubrics for it. For example, if you promote your coffee shop, the headings could be:
our team;
the dessert of the week;
what is it made of;
weekend breakfast.
Not sure how to write a user-friendly content plan for your Facebook page? Focus on these main sections:
the date and time of publication;
the type of publication;
the topic of publication;
publication heading;
a place for comments;
hashtags.
Example of a content plan for the week
Below is an example of a weekly content plan for a company supplying materials to various construction companies. For convenience, we advise you to separate the content for different purposes with color marks. It simplifies the perception and protects you from the unwanted accumulation of posts on the same topic.


Example of a content plan for the month
Here is an example of a content plan for the month. Of course, a month is a very long time, and it may be necessary to make some changes, which is normal. Do not try to make a perfect content plan on the first day of the month because you need to be mobile and respond quickly to situational events in the industry or the world.
When creating a content plan, we advise you to leave a field for comments, where you can make brief comments on the topic for the post. These comments will make it easier for you to write your posts in the future.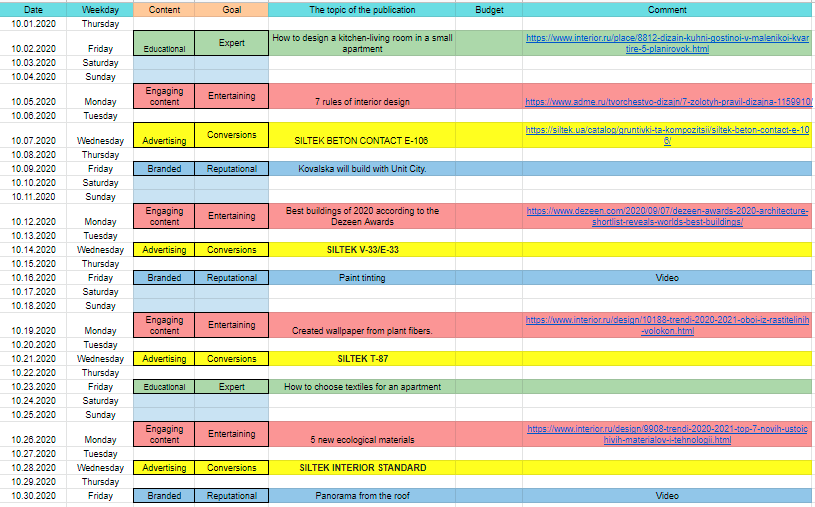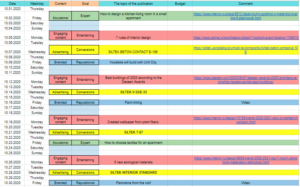 Choose topics for posts
The stage of selecting topics for posts is the most creative but also the most difficult. After you have decided on the type of content, its frequency, and time of publication, the question arises: «Where to get topics for posts?» We offer several options where you can get ideas for future posts:
1. Competitor analysis
Watch what your main competitors are doing: pay attention to local companies and look for colleagues on the global stage. Browse their social networks, get inspired and do even better. You have to pay special attention to the readers' reaction in the comments: fix the moments that cause them indignation, and do not repeat these mistakes. Don't forget about the professional communities on Facebook and Instagram, where you can find new ideas for posts.
2. Events calendar
We recommend you review the dates that may apply to your project each month to include them in your social media posting plan. There are many weird dates in these calendars (Day of rest on the windowsill), but usually, they can inspire you to new topics. Do not forget about the special dates of your company: anniversaries and current events.
3. Answers to customer questions
Imagine yourself as a customer. Here you are on the page of a brand you have never heard of before. Think about what questions your readers might have that they want to find out. Write down everything that comes to mind:
work schedule;
address;
delivery;
product uniqueness;
features of the company's work during the quarantine period.
Use the list of these questions as topics for posts on your page.
4. Work with objections
Find out from sales managers the main objections from customers and process them. If customers do not buy your product because the price is too high, explain why you set such a price. Communicate your value to consumers and emphasize the quality they will receive for that price.
5. Keep your finger on the pulse
Keep an eye on what's happening in the world and your industry. You can successfully integrate all news and events into your content feed. Such situational posts demonstrate good audience engagement. However, keep in mind that if you want to get the desired result, you need to adapt the information to the theme of your page.
We hope our tips will help you create a content plan for social media. The main thing is to work systematically with such a file, and for the second month of work, you will feel the result and the growth of your page metrics. So, briefly about why a content plan is an important element of promotion:
creating such a file will help you not to suffer from a lack of ideas and inspiration;
clear structuring and definition of the posting schedule will allow you to analyze and focus more on achieving business goals;
a well-planned posting schedule will help you avoid monotonous content that quickly bores the reader.
Of course, creating a content plan is a resource-intensive process, but the result is worth it. SMM specialists from Lanet CLICK will be happy to help you develop a content plan for your project and successfully integrate it.