Anti-crisis case on targeting
for the developer
How did we manage to keep the average number of leads per month
under the condition of reducing the budget during quarantine to 50% in the real estate sector
In this case, we will talk about the work done to optimize the advertising campaign with the collection of leads from Instagram and Facebook during quarantine.
A customer:
A large construction company engaged in the construction of residential and commercial real estate in Ukraine.
The client's real estate object:
A large residential complex built in a densely populated area of Kyiv near the metro. Potential buyers are practical young people and families with above-average incomes, as well as investors who want to earn a passive income.
Problem:
The client asked us to reduce the budget by 50% for the hydrogenation service during the quarantine period. Our task was to develop a plan to minimize the loss of the number of applications and, given the temporarily reduced costs, try to keep the old coverage.
Solution:
Restarting anti-crisis strategy campaigns.
Data "BEFORE" and "AFTER"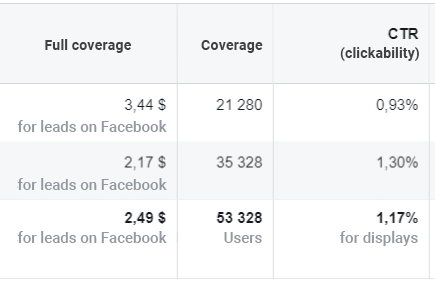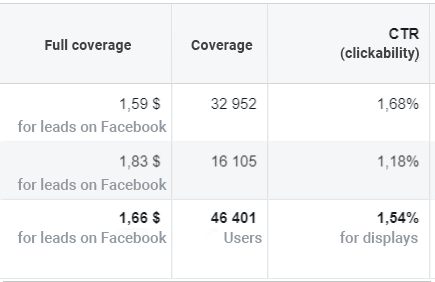 As you can see, the cost of lead decreased by 33.33%, CTR increased by 31.62%, and coverage did not decrease dramatically by less than 13%, while the budget was spent 45.07% less than the previous "stable" moon. What have we done for this?
We worked with the client on the quarantine-relevant proposals, which primarily concerned the fixation of the dollar, which began to rise sharply, and favorable terms of installments. For each offer, our designers have developed packages of graphic layouts with different plots, text boxes and other marks for different segments of the target audience, as well as adapted them to display formats in the tape and stories. The main emphasis on graphic elements was placed on maintaining calm in difficult times for the economy. Also in advertising creatives, we decided to use a virtual video tour of the residential complex, which was provided to us by a client.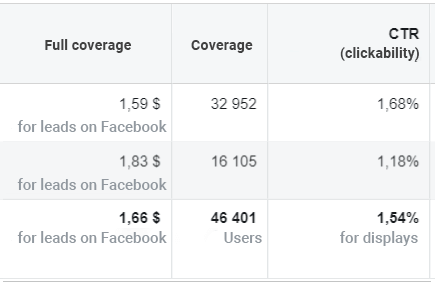 Next, we calculated the budget for the weekly test on Facebook and Instagram, in order to further effectively distribute the basic budget between the platforms and determine the best creative.
A total of 10 formatted ads were launched. The favorites among them were noticeable a few days after the test was launched. Having collected enough data for decision-making, we optimized new advertising campaigns by disabling ineffective segments of selected target audiences and ads that showed low CTR and engagement.
As a result of our actions, we managed to reduce the cost of a lead in a difficult period for many, save the customer's budget while maintaining the accepted number of leads in real estate, and, of course, remain in the information field on the number of users covered.
Order targeted advertising on Facebook!