Case: targeted advertising for a restaurant serving Asian and European cuisine
How to attract new visitors to a restaurant with a low conversion cost
Client:
Asian and European cuisine restaurant
Goal:
to attract target customers
Target audience:
male/female, 23-45 years old, living/being within a 3 km radius of the target location, senior executives, managers, IT industry workers with a high-income level, and frequent travelers.
Duration:
30 days
Action plan:
After analyzing the goal and audience of the ad, it was decided to choose the Conversions ad format and additionally Traffic with an audience for remarketing. This format allows getting the largest number of targeted actions in the allocated budget.
1st stage
Identifying and working out the client's main «pains» and preparing advertising banners and text messages based on them
2nd stage
Creating ad groups for different audiences for testing, setting up target audiences, and launching campaigns..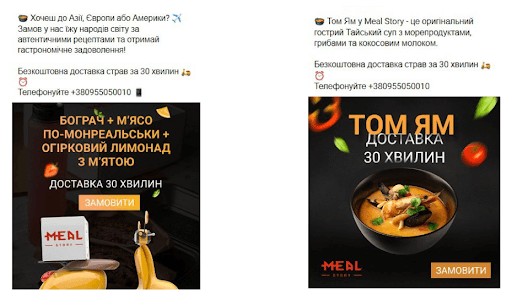 After a test run, we managed to identify the most effective banner+audience connections that brought targeted appeals. During the entire campaign, we received 100 conversions with an average price of $2.09.

Order targeted advertising